Eningaba | Welcome
Groote Broadcasting
Welcome to Groote Broadcasting, Anindilyakwa Radio. We're a radio broadcasting program, representing the Anindilyakwa people under Preserving Culture, a department of the Anindilyakwa Land Council (ALC).
Our mission:
Groote Broadcasting, the unique voice of Anindilyakwa; empowering, uplifting, informing…
while entertaining along the way.
About Groote Broadcasting
Radio under the ALC was established in late 2017. Top End Aboriginal Bush Broadcast Association (TEABBA) are the licensee, auspicing Groote Broadcasting, Anindilyakwa Radio. They have been a huge support, partner, and collaborator.
Groote Broadcasting is a collective of community radio stations across the Groote archipelago region. The ALC has built and established cultural centres in the two main communities of Umbakumba and Angurugu. They are home to our radio stations. We are working towards ensuring the voice of Warnumamalya can be heard throughout all communities of Groote Eylandt.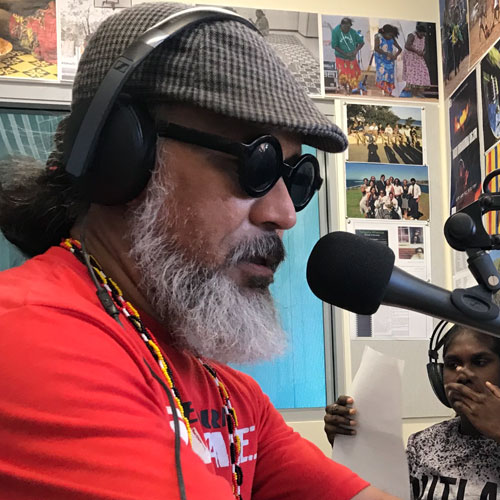 Percy Bishop
Groote Eylandt, Anindilyakwa Radio Coordinator
Amethea Mamarika
Umbakumba Station Manager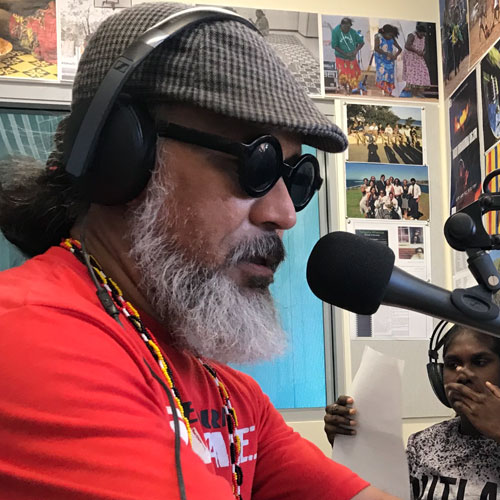 Percy is an experienced broadcaster having spent 16 years with Koori Radio 93.7FM in Redfern Sydney, in between spending a short time with CAAMA radio in 96', 97' and now Groote Eylandt and broadcasting since arriving in 2012. 'I've seen the changes' Radio has been enormous with strong support by the ALC and TEABBA Radio in Darwin. I've felt it's impact in community, seen it's influence. Black radio is essential. It's messaging are the things you would never hear on mainstream radio. Most things to do with their lives; their history, their culture, the impact of colonisation, education, jail. Things that really matter. Justice. Walking in two worlds.
Radio is a particular niche; despite the latest technology it still has it's place. I've looked for Amethea before and she's phoned back from hearing it on the radio while in the local store. I've seen it's effectiveness through several cyclones and now the pandemic. We're well engaged with community, but still looking to mentor a couple more community members into the role as broadcasters. I realise it's a niche space and we've had some good people leave a mark who have come and gone. But our challenge is embedding it deeply then leaving it within strong Warnumamayla hands. Sharing strong practices, teaching flexibility and new skills. People like Amethea Mamarika are one of those people. There are many……. If we can build on what we have already……we'll be fine.
I'm an actor playwrite, these things I love and live for. I write as my middle names, but act as Percy Bishop. Indigenous culture and politics I'm much the same. I've been active in this space for 29 years  for black radio as a broadcaster from Sydney to the Central Deserts, to the Top End. I'm grateful as a visitor to all first Nations Indigenous Australia for having me on these great lands. I remain indebted. Radio is an art form, a great platform to engage all persons right across the human spectrum. Music and conversation. A black voice. It brings great confidence, and ownership, I've seen Amethea shine brightly since her earlier days. But she always had something. These are the things you fight for. Stay tuned.
Regards
106.3 fm
102.9 fm
Big Ups
Amethea Mamarika is a proven and outstanding senior broadcaster, who was promoted to Umbakumba Radio Station Lead April 2021. Amethea has carved out an outstanding career in community broadcasting with Groote Broadcasting Anindilyakwa Radio since joining ALC's premier information hub in 2019. She comes from the Mamarika Clan, one of 14 major clan groups on Groote Eylandt. She was awarded for outstanding community contribution and service to radio last Year 2021, in her community of Umbakumba on Groote Eylandt.
Amethea is an outstanding spokesperson for her community, and brings a tangible power to the microphone. Amethea easily stands out as a young leader. She was nominated to the ALC board in 2020 and soon after nominated to Aminjarrinja's Directorate. She has been a major influence and contributor to the daily beat of community. Her voice echoed daily provides regular community news and updates,  announcements, sharing information across Groote Island, from 'get your bins out today' to 'cyclone arrives tonight' or 'Covid positive? 'Stay home…don't roam'. She has played a significant role in Groote Eylandt's ongoing fight against COVID. The relatively low covid numbers on Groote Eylandt today, can be been largely attributed to community members response, and the combined strong working partnerships of many organisations on Island but also including Amethea's considerable Individual efforts in providing daily messaging in Anindilyakwa and English.
Using language prominently, and including English, radio has been able to effectively create a far greater awareness in community for all issues including the urgency of cyclones and the many complicated protocols of COVID. She has easily added emcee to her extensive repertoire, seen and heard often, at the forefront, on the mic at community events.
Over the years Amethea has engaged with school kids weekly bringing them into the studio, and sharing skills, giving youth the opportunity to create their own radio show or look to it as a future career path. Amethea loves being on country with her family, hunting and fishing, collecting Turtle Eggs and Sugar Bag. Music, dance and travel are a big part of her life.
She believes kids should be in school, to get a good education and be able to walk proudly with confidence in both worlds, then one day take over. Be the boss on their own land. One people one voice.
Amethea co-hosts The Groote (Great) Morning Show with radio host Percy Bishop Mondays – Fridays 8am – 12 daily on 106.3FM and 102.9FM, with a sneaky afternoon "The Black 2 Frunt ' Drive time show with Amethea and 'P' 1- 3pm.